Colleen Houck Book Club 2016 Picks!
December 21, 2015
---
Hi Everyone!
I'm very excited to share with you my CHBC picks for 2016. There are some fabulous authors and books on the list so pick these up and then join me for the conversation. If you're new to the Colleen Houck Book Club, it's super easy to join. I host the club on Goodreads and each month you get the chance to ask authors questions. You can ask anything from what they like to eat to what they're writing right now. You don't have to read the book to participate and every month I choose one lucky person from the chat to win a prize. The prize includes the book or books I've read from that author that month as well as your pick of any of my books as well as some extra fun stuff I throw in.
You can check out the past chats on the group board with amazing authors like Beth Revis, Tera Lynn Childs, Sophie Jordan, Kimberly Derting, and many more, and you can also ask me questions there as well. Hope you can join the club this year!
Now for your 2016 sneak peek. Here are my Book Club Picks!
---
January
A modern-day twist on the classic thriller, Rebecca, with a dash of the supernatural, a powerful romance, and a deadly family mystery.
"There's something hidden in the maze."
Seventeen-year-old Imogen Rockford has never forgotten the last words her father said to her, before the blazing fire that consumed him, her mother, and the gardens of her family's English country manor.
For seven years, images of her parents' death have haunted Imogen's dreams. In an effort to escape the past, she leaves Rockford Manor and moves to New York City with her new guardians. But some attachments prove impossible to shake—including her love for her handsome neighbor Sebastian Stanhope.
Then a life-altering letter arrives that forces Imogen to return to the manor in England, where she quickly learns that dark secrets lurk behind Rockford's aristocratic exterior. At their center is Imogen herself—and Sebastian, the boy she never stopped loving.
Combining spine-tingling mystery, romance, and unforgettable characters, Suspicion is an action-packed thrill ride.
---
February
The intrigue of The Virgin Suicides and the "supernatural or not" question of The Unbecoming of Mara Dyer coalesce in this young adult mystery, where nothing is quite as it seems, no one is quite who you think, and everything can change on a dime.
Every story needs a hero.
Every story needs a villain.
Every story needs a secret.
Wink is the odd, mysterious neighbor girl, wild red hair and freckles. Poppy is the blond bully and the beautiful, manipulative high school queen bee. Midnight is the sweet, uncertain boy caught between them. Wink. Poppy. Midnight. Two girls. One boy. Three voices that burst onto the page in short, sharp, bewitching chapters, and spiral swiftly and inexorably toward something terrible or tricky or tremendous.
What really happened?
Someone knows.
Someone is lying.
For fans of Holly Black, We Were Liars, and The Raven Boys, this mysterious tale full of intrigue, dread, beauty, and a whiff of something strange will leave you utterly entranced.
---
March
The Cyrists are swiftly moving into position to begin the Culling, and Kate's options are dwindling. With each jump to the past or the future, Kate may trigger a new timeline shift. Worse, the loyalties of those around her—including the allegiances of Kiernan and the Fifth Column, the shadowy group working with Kate—are increasingly unclear.
Kate will risk everything, including her life, to prevent the future her grandfather and the Cyrists have planned. But, when time runs out, it may take an even bigger sacrifice to protect the people she loves.
---
April
Return to the darkly beautiful world of The Sin Eater's Daughter with a sequel that will leave you awed, terrified . . . and desperate for more.
Ever since her brother Lief disappeared, Errin's life has gone from bad to worse. Not only must she care for her sick mother, she has to scrape together rent money by selling illegal herbal cures. But none of that compares to the threat of the vengeful Sleeping Prince whom the Queen just awoke from his enchanted sleep.
When her village is evacuated as part of the war against the Sleeping Prince, Errin is left desperate and homeless. The only person she can turn to is the mysterious Silas, a young man who buys deadly poisons from Errin, but won't reveal why he needs them. Silas promises to help her, but when he vanishes, Errin must journey across a kingdom on the brink of war to seek another way to save her mother and herself. But what she finds shatters everything she believed about her world, and with the Sleeping Prince drawing nearer, Errin must make a heartbreaking choice that could affect the whole kingdom.
---
May
Ember Hill left the dragon organization Talon to take her chances with rebel dragon Cobalt and his crew of rogues. But Ember can't forget the sacrifice made for her by the human boy who could have killed her—Garret Xavier Sebastian, a soldier of the dragonslaying Order of St. George, the boy who saved her from a Talon assassin, knowing that by doing so, he'd signed his own death warrant.
Determined to save Garret from execution, Ember must convince Cobalt to help her break into the Order's headquarters. With assassins after them and Ember's own brother helping Talon with the hunt, the rogues find an unexpected ally in Garret and a new perspective on the underground battle between Talon and St. George.
A reckoning is brewing and the secrets hidden by both sides are shocking and deadly. Soon Ember must decide: Should she retreat to fight another day…or start an all-out war?
---
June
Ocean's Eleven meets the star-crossed lovers of West Side Story. Grab some popcorn and get ready for an adrenaline-filled heist!
LEXI is a rich girl who loves a good rush. Whether it's motorcycle racing or BASE jumping off a building in downtown Los Angeles, the only times she feels alive are when she and her friends are executing one of their dares. After her father's arrest, Lexi doesn't think twice about going undercover at his bank to steal the evidence that might clear his name. She enlists her hacker brother and her daredevil friends to plan a clever heist.
CHRISTIAN is a boy from the wrong side of the tracks. The local gang has blackmailed him and his friends into robbing banks, and he is desperate for a way out. When the boss promises that one really big job will be the last he ever has to do, Christian jumps at the chance for freedom. In fact, he's just met a girl at the bank who might even prove useful. . . .
Two heists. One score. The only thing standing in their way is each other.
Told in alternating points of view, this caper is full of romance and fast-paced fun. Hand to fans of Perfect Chemistry, The Conspiracy of Us, and Heist Society.
---
July
The much anticipated sequel to the breathtaking The Wrath and the Dawn, lauded by Publishers Weekly as "a potent page-turner of intrigue and romance."
I am surrounded on all sides by a desert. A guest, in a prison of sand and sun. My family is here. And I do not know whom I can trust.
In a land on the brink of war, Shahrzad has been torn from the love of her husband Khalid, the Caliph of Khorasan. She once believed him a monster, but his secrets revealed a man tormented by guilt and a powerful curse—one that might keep them apart forever. Reunited with her family, who have taken refuge with enemies of Khalid, and Tariq, her childhood sweetheart, she should be happy. But Tariq now commands forces set on destroying Khalid's empire. Shahrzad is almost a prisoner caught between loyalties to people she loves. But she refuses to be a pawn and devises a plan.
While her father, Jahandar, continues to play with magical forces he doesn't yet understand, Shahrzad tries to uncover powers that may lie dormant within her. With the help of a tattered old carpet and a tempestuous but sage young man, Shahrzad will attempt to break the curse and reunite with her one true love.
---
August
When Freedom Airlines flight 121 went down over the Pacific Ocean, no one ever expected to find survivors. Which is why the sixteen-year-old girl discovered floating among the wreckage―alive―is making headlines across the globe.
Even more strange is that her body is miraculously unharmed and she has no memories of boarding the plane. She has no memories of her life before the crash. She has no memories period. No one knows how she survived. No one knows why she wasn't on the passenger manifest. And no one can explain why her DNA and fingerprints can't be found in a single database in the world.
Crippled by a world she doesn't know, plagued by abilities she doesn't understand, and haunted by a looming threat she can't remember, Seraphina struggles to piece together her forgotten past and discover who she really is. But with every clue only comes more questions. And she's running out of time to answer them.
Her only hope is a strangely alluring boy who claims to know her from before the crash. Who claims they were in love. But can she really trust him? And will he be able to protect her from the people who have been making her forget?
From popular young adult author Jessica Brody, Unremembered is the start of a compelling and suspenseful new sci-fi series, set in a world where science knows no boundaries, memories are manipulated, and true love can never be forgotten.
---
September
This world is trying to kill Lily Proctor. Her life-threatening allergiesmake it increasingly difficult to live a normal life, and after a completely humiliating incident ruins her first (and perhaps only) real party, she's ready to disappear.
"Come and be the most powerful person in the world."
Suddenly, Lily finds herself in a different Salem. One overrun with horrifying creatures and ruled by powerful women―including Lillian, this world's version of Lily.
"It will be terrifying. It was for me."
What made Lily weak at home, makes her extraordinary here. It also puts her in terrible danger. Faced with new responsibilites she can barely understand and a love she never expeceted, Lily is left with one question: How can she be the savior of this world when she is literally her own worst enemy?
---
October
Kai always believed the only danger to the city came from within. Now, with a rebel force threatening the fragile government, the walls have become more of a prison than ever.
To make matters worse, as Avan explores his new identity as an Infinite, Kai struggles to remind him what it means to be human. And she fears her brother, Reev, is involved with the rebels. With the two people she cares about most on opposite sides of a brewing war, Kai will do whatever it takes to bring peace. But she's lost her power to manipulate the threads of time, and she learns that a civil war might be the beginning of something far worse that will crumble not only Ninurta's walls but also the entire city.
In this thrilling sequel to Gates of Thread and Stone, Kai must decide how much of her humanity she's willing to lose to protect the only family she's ever known.
---
November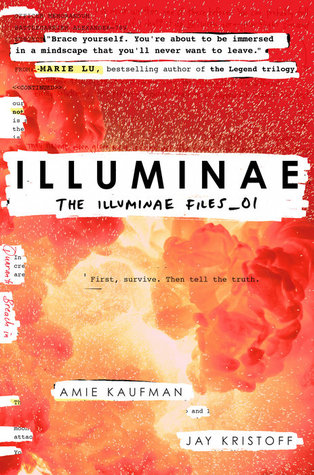 This morning, Kady thought breaking up with Ezra was the hardest thing she'd have to do.
This afternoon, her planet was invaded.
The year is 2575, and two rival megacorporations are at war over a planet that's little more than an ice-covered speck at the edge of the universe. Too bad nobody thought to warn the people living on it. With enemy fire raining down on them, Kady and Ezra—who are barely even talking to each other—are forced to fight their way onto an evacuating fleet, with an enemy warship in hot pursuit.
But their problems are just getting started. A deadly plague has broken out and is mutating, with terrifying results; the fleet's AI, which should be protecting them, may actually be their enemy; and nobody in charge will say what's really going on. As Kady hacks into a tangled web of data to find the truth, it's clear only one person can help her bring it all to light: the ex-boyfriend she swore she'd never speak to again.
Told through a fascinating dossier of hacked documents—including emails, schematics, military files, IMs, medical reports, interviews, and more—Illuminae is the first book in a heart-stopping, high-octane trilogy about lives interrupted, the price of truth, and the courage of everyday heroes.
---
December
A princess must find her place in a reborn world.
She flees on her wedding day.
She steals ancient documents from the Chancellor's secret collection.
She is pursued by bounty hunters sent by her own father.
She is Princess Lia, seventeen, First Daughter of the House of Morrighan.
The Kingdom of Morrighan is steeped in tradition and the stories of a bygone world, but some traditions Lia can't abide. Like having to marry someone she's never met to secure a political alliance.
Fed up and ready for a new life, Lia flees to a distant village on the morning of her wedding. She settles in among the common folk, intrigued when two mysterious and handsome strangers arrive—and unaware that one is the jilted prince and the other an assassin sent to kill her. Deceptions swirl and Lia finds herself on the brink of unlocking perilous secrets—secrets that may unravel her world—even as she feels herself falling in love.
---
There you go. My 2016 Book Club Picks. Let me know if you have suggestions for 2017. I reach out to authors pretty early and will start filling in spots soon! And don't forget to check in this month. My featured author is Diana Peterfreund!
This entry was posted in Colleen Houck Book Club, Featuring Authors, The Modern Ink Society.
---
---
Categories
Archive
Author Bio