Book reviews for kids, by kids- Invasion of the Overworld
May 19, 2015
---
For those of you who are looking for new books appropriate for middle grade that both boys and girls might enjoy, this is the place to look!
Every month, at least one new book will be added for review right here and they will be reviewed by the best critics, KIDS! That's right, the one's who read them will be the judge!
This blog is written by my nephew Sam, like most boys he loves games. So when it comes to reading he likes his books to be about his games. He also likes to read comics…any kind of comics. He likes the BFG, by Ronald Dahl also.  Introducing Sam,
"Hi. My name is Sam and I'm in the 7th grade. I love soccer and play on the school team. I like computer games like Minecraft, Roblox, Aliens vs. Predator, and am working on my Star in Boy Scouts of America. I love to hike, climb, and camp with my dad and family. I love egg sandwiches and grilled cheese sandwiches. I love going on vacations with my family. When we went to Sedona last year I went on a lot of hikes with my dad, and we even played in a river."
---
And now, introducing our next middle grade book review for kids, by kids!
Book review on Invasion of the Overworld
by Mark Cheverton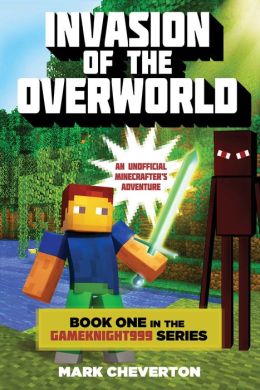 Setting:
This book took place in Gameknight999 house,which is a house inside our world.  Then Gameknight999 gets teleported to his favorite game Minecraft. Minecraft is a game that is made out of blocks and has mobs like zombies that attack you and has other players are in the world you can play with you or kill you and destroy your creations.
Main Character:
The main character is Gameknight999 is 12 years old who has a little sister who he actually loves in the real world.  Gameknight999 is different when he play Minecraft.  He "trolls" people in the game which means he's basically mean in the game.
Gameknight999 ruins the gaming experience for everyone but himself.  That all changes when he gets teleported into the actual game of Minecraft.  Think of the movie Tron and how the main character gets sucked into the computer.
Personal Review:
I liked this book, and the good thing is that this series continues. Gameknight999 learned some good lessons.  He learned how to treat people in the game world. He learns new secrets like villagers can talk, feel pain, and have feelings.  There is a secret place underground place under each village.  Gameknight999 makes a friend who shares all these game secrets with him, and his name Crafter. Gameknight999 is still trapped in the Minecraft world at the end of this book.
Till next time,
Linda Louise and Sam
Here's a list and link to the other books we've reviewed:
Igraine the Brave by Cornelia Funke
The Lion, The Witch, and the Wardrobe by CS Lewis
Spiderwick Chronicles by Tony Di'Terlizzi and Holly Black
Artemis Fowl, book 1 by Eoin Colfer
The BFG (The Big Friendly Giant) by Roald Dahl
How to Train Your Dragon: How to Break a Dragon's Heart, Book # 8 by Cressida Cowell
~ Till next time,
Linda Louise Lotti
This entry was posted in Kid's Perspective.
---
---
Categories
Archive
Author Bio