Upcoming YA Books: September 2014
August 26, 2014
---
I am a long-time reader.
The librarians were on first name basis with my siblings and me because we were there lots. They'd see us come in and get our reserved books right off the shelf for us (that was back when their reserve shelves were behind the counter). I remember countless hours roaming the aisles of books (and books and books) and, I admit it, spending some time on their computers. I remember participating in the summer reading programs (which I remember being more challenging than they are now) each year.
My parents came up with some creative rules and disciplines. No singing at the table. No quoting at the table. No music with words until after lunch. 5 minutes of original conversation. Oh, and "you're restricted from books". I can't even recall if we continued to read anyway but… what kind of parent has to say "STOP READING, WOULD YA???"
My daughter has also developed a love for books. While she can't read yet, she checks out massive stacks of books from the library. She reads comics like Garfield and Calvin & Hobbes with her uncle. Her dad recently introduced her to the world of The Boxcar Children by Gertrude Chandler Warner and they are reading the second book together. She and I read nearly everything together but her bedtime stories have been the Ramona books by Beverly Cleary. We're on the fifth book.
My own list of books to read as listed on Goodreads is at 175 books. And that's only because I'm refusing to let it grow longer and longer even though it is, in truth, much longer. (Much MUCH longer.) As much as I love to read, I don't get the opportunity to read as much as I'd like to right now so my list grows much quicker than I can cross things off!
Well, I wanted to share with you some books that are coming out in the month of September. And no, I didn't add them to my Goodreads list.
Yet.
Okay, okay! Fine!
Not ALL of them got added to my list….
---
Lark Rising, Sandra Waugh's debut novel, is the first book in the Guardians of Tarnec series.
Lark has foreseen two things—she will fall for a young man with sage green eyes,and he will kill her.
 
Sixteen-year-old Lark Carew is happiest close to home, tending her garden and gathering herbs for medicines. But when her Sight warns her that monsters called Troths will soon invade her village, Lark is summoned on a journey to seek help from the legendary Riders of Tarnec. Little does she suspect that one of the Riders, Gharain, is the very man who has haunted her visions. Or that the people of Tarnec have called her there for another reason: Lark is the Guardian of Life, the first of four Guardians who must awaken their powers to recover four stolen amulets. Together, the amulets—Life, Death, Dark, and Light—keep the world in Balance. To take back the Life amulet, Lark will have to discover her true inner strength and give in to a love that she swears will be her downfall.
---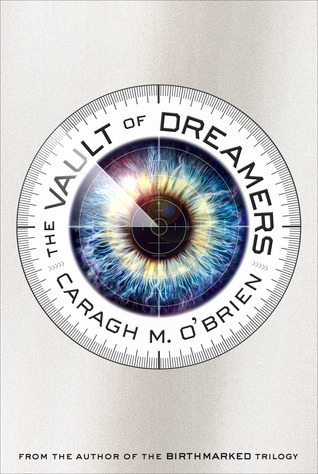 Ack, this one seems like it might mess with my head! I like to feel secure in my sleep.
From the author of the Birthmarked trilogy comes a fast-paced, psychologically thrilling novel about what happens when your dreams are not your own.
 
The Forge School is the most prestigious arts school in the country. The secret to its success:  every moment of the students' lives is televised as part of the insanely popular Forge Show, and the students' schedule includes twelve hours of induced sleep meant to enhance creativity. But when first year student Rosie Sinclair skips her sleeping pill, she discovers there is something off about Forge. In fact, she suspects that there are sinister things going on deep below the reaches of the cameras in the school. What's worse is, she starts to notice that the edges of her consciousness do not feel quite right. And soon, she unearths the ghastly secret that the Forge School is hiding—and what it truly means to dream there.
---
If Divergent was your thing, you might like Tabula Rasa as well.
Sixteen-year-old Sarah has a rare chance at a new life. Or so the doctors tell her. She's been undergoing a cutting-edge procedure that will render her a tabula rasa—a blank slate. Memory by memory her troubled past is being taken away.
But when her final surgery is interrupted and a team of elite soldiers invades the isolated hospital under cover of a massive blizzard, her fresh start could be her end. 
Navigating familiar halls that have become a dangerous maze with the help of a teen computer hacker who's trying to bring the hospital down for his own reasons, Sarah starts to piece together who she is and why someone would want her erased. And she won't be silenced again.
A high-stakes thriller featuring a non-stop race for survival and a smart heroine who will risk everything, Tabula Rasa is, in short, unforgettable.
---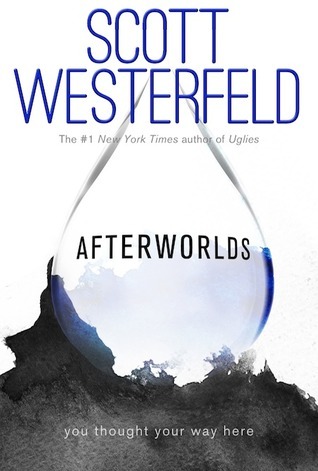 From the author of the Uglies and Leviathan series comes this new book. A novel within a novel.
Darcy Patel has put college and everything else on hold to publish her teen novel, Afterworlds. Arriving in New York with no apartment or friends she wonders whether she's made the right decision until she falls in with a crowd of other seasoned and fledgling writers who take her under their wings… 
Told in alternating chapters is Darcy's novel, a suspenseful thriller about Lizzie, a teen who slips into the 'Afterworld' to survive a terrorist attack. But the Afterworld is a place between the living and the dead and as Lizzie drifts between our world and that of the Afterworld, she discovers that many unsolved – and terrifying – stories need to be reconciled. And when a new threat resurfaces, Lizzie learns her special gifts may not be enough to protect those she loves and cares about most.
---
This one did make it on my list because, uh, dragons? Yes! Sign me up! This is the second book in the SCORCHED series. You can read about the first one on Goodreads. I discovered that Scorched is already on my To Reads list. Phew! (Because yes, I love dragons!)
A girl at the end of the world. 
Two brothers fighting for opposite sides. 
And a dragon who can save them all…
Or set the world on fire. 
Trinity's world changed forever the day she stole Emmy's egg. Now she's on the run with the last living dragon and twin brothers from a war-torn future. Connor may have betrayed his mission to kill Emmy, but he'll do whatever it takes to prevent the coming dragon apocalypse. Coddling a temperamental dragon on its way to being the size of a house is no way to keep them safe. But Caleb can't stand to see Emmy trapped and miserable. 
When a video of Emmy flying over the skies of the Texas Hill Country goes viral, the government closes in–and the future they've risked everything for is about to go up in flames.
---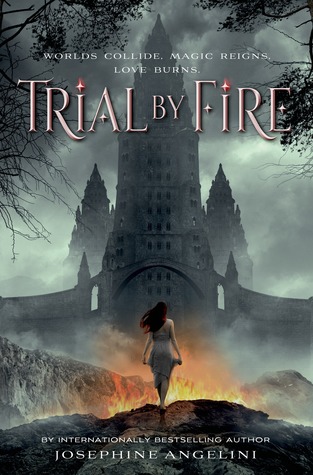 A Salem witch story and the first in a series, it also found its way to my Goodreads list!
This world is trying to kill Lily Proctor. Her life-threatening allergies keep her from enjoying experiences that others in her hometown of Salem take for granted, which is why she is determined to enjoy her first high school party with her best friend and longtime crush, Tristan. But after a humiliating incident in front of half her graduating class, Lily wishes she could just disappear.
Suddenly, Lily is in a different Salem—one overrun with horrifying creatures and ruled by powerful women called Crucibles. Strongest and cruelest of them all is Lillian . . . Lily's other self in this alternate universe.
What makes Lily weak at home is what makes her extraordinary in New Salem. In this confusing world, Lily is torn between responsibilities she can't hope to shoulder alone and a love she never expected.
---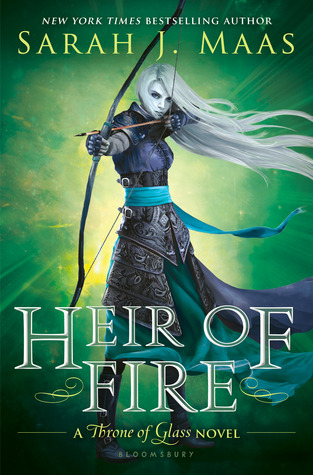 While the first book in the Throne of Glass series has been on my To Read list since it came out in 2012, I'm finding myself shocked that this is the THIRD book in the series!
Lost and broken, Celaena Sardothien's only thought is to avenge the savage death of her dearest friend: as the King of Adarlan's Assassin, she is bound to serve this tyrant, but he will pay for what he did. Any hope Celaena has of destroying the king lies in answers to be found in Wendlyn. Sacrificing his future, Chaol, the Captain of the King's Guard, has sent Celaena there to protect her, but her darkest demons lay in that same place. If she can overcome them, she will be Adarlan's biggest threat – and his own toughest enemy. 
While Celaena learns of her true destiny, and the eyes of Erilea are on Wendlyn, a brutal and beastly force is preparing to take to the skies. Will Celaena find the strength not only to win her own battles, but to fight a war that could pit her loyalties to her own people against those she has grown to love?
---
This is the last book in the Shadowfell triology. Juliet Marillier has some fantastic books out there so this series is sure to not disappoint.
In the final book in this gripping, romantic fantasy trilogy perfect for fans of Robin McKinley, Kristin Cashore, and Shannon Hale, Neryn's band of rebels reach their climactic confrontation with the king. The stunning conclusion to the story that began with Shadowfell and Raven Flight is full of romance, intrigue, magic, and adventure.
Just one year ago, Neryn had nothing but a canny skill she barely understood and a faint dream that the legendary rebel base of Shadowfell might be real. Now she is the rebels' secret weapon, and their greatest hope for survival, in the fast-approaching ambush of King Keldec at Summerfort.
The fate of Alban itself is in her hands. But to be ready for the bloody battle that lies ahead, Neryn must first seek out two more fey Guardians to receive their tutelage. Meanwhile, her beloved, Flint, has been pushed to his breaking point as a spy in the king's court—and is arousing suspicion in all the wrong quarters.
At stake lies freedom for the people of Alban, a life free from hiding for the Good Folk—and a chance for Flint and Neryn to finally be together.
---
Did you read The Lost Apprentice series? I haven't yet. Should I admit that they have been on my list to read for a while too?
A chilling new trilogy from the author of the internationally bestselling The Last Apprentice series! Tom Ward is an apprentice no longer—now he is a fully fledged spook battling boggarts, witches, and other creatures of the dark. This three-book arc will introduce brand-new readers to Joseph Delaney's haunting world, and delight longtime fans.
Tom Ward is the spook, the one person who can defend the county from ghosts, ghasts, boggarts, witches, and other bloodthirsty creatures of the dark. But he's only seventeen, and his apprenticeship was cut short when his master died in battle. No one trusts Tom's skill, not till he's proven himself. And a fifteen-year-old girl named Jenny knows more about the three mysterious deaths in the county than Tom does. She is a seventh daughter of a seventh daughter and she wants to be Tom's first apprentice—even though a female spook is unheard of. Together, Tom and Jenny will uncover the grave danger heading straight toward the county, and they'll team up with a witch assassin to confront it.
A New Darkness begins a three-book series that will introduce new readers to Joseph Delaney's deliciously scary imagination and delight his longtime fans. A New Darkness is perfect for every reader who loves thrills, chills, action, and adventure-no prior knowledge of the Last Apprentice series necessary! 
---
I must admit, this one pulls at me because of the beautiful WHITE TIGER cover. It's the second book in the series.
Jae Hwa Lee is ready to forget about immortals and move on with her life. Until the god of darkness, Kud, sends an assassin to kill her. She escapes with the knowledge that Kud is seeking the lost White Tiger Orb, and joins the Guardians of Shinshi to seek out the orb before Kud can find it. But Kud is a stronger and more devious god than Jae ever imagined. Jae is soon painfully reminded that by making an enemy of Kud, she has placed her closest friends in danger, and must decide how much she can bear to sacrifice to defeat one of the most powerful immortals in all of Korea.
---
A companion book to Victoria Strauss' Passion Blue, this is is a historical fiction book about a painter. And I love the cover!
Artistically brilliant, Giulia is blessed – or cursed – with a spirit's gift: she can hear the mysterious singing of the colors as she creates them in the convent workshop of Maestra Humilita. It's here that Giulia, forced into the convent against her will, has found unexpected happiness and rekindled her passion to become a painter?an impossible dream for any woman in 15th century Italy.
But when a dying Humilita bequeaths Giulia her most prized possession – the secret formula for the luminously beautiful paint called Passion blue – Giulia realizes she's in danger from those who have long coveted the famous color. Faced with the prospect of a life in the convent barred from painting as punishment for keeping Humilita's secret, Giulia is struck by a desperate idea: What if she disguises herself as a boy? Could she make her way to Venice and find work as an artist's apprentice?
Along with the truth of who she is, Giulia carries more dangerous secrets: the exquisite voices of her paint colors and the formula for Humilita's Passion blue. And Venice, she discovers, with its gilded palazzos and masked balls, has secrets of its own. Trapped in her false identity in this dream-like place where reality and reflection are easily confused, and where art and ambition, love and deception hover like dense fog, can Giulia find her way?
This compelling novel explores timeless themes of love and illusion, gender and identity as it asks the question: what does it mean to risk everything to pursue your passion?
---
If now I've given you an itch to read a book and ALL OF THESE BOOKS release in September, here are a few suggestions that you could read right away!
In just a few days, Colleen is hosting a chat with Tera Lynn Childs. Have you read August's Book of the Month yet?
A modern girl's comedic odyssey in a school filled with the descendants of Greek gods.
When Phoebe's mom returns from Greece with a new husband and moves them to an island in the Aegean, Phoebe's plans for her senior year and track season are ancient history. Now she must attend the uber exclusive academy, where admission depends on pedigree, namely, ancestry from Zeus, Hera, and other Greek gods. That's right, they're real, not myth, and their teen descendants are like the classical heroes: supersmart and super beautiful with a few superpowers. And now they're on her track team! Armed only with her Nikes and the will to win, Phoebe races to find her place among the gods.
---
Looking ahead! September's Book of the Month is Earthquake by Aprilynne Pike. If you haven't read the first book in the series, read that and join in on the chat! Keep an eye out for a more in depth introduction in about a week.
---
As for what I'm currently reading, you'll find this book on my nightstand. So many of my friends have rated it 4 or 5 stars and when I got the chance to snag it at Romantic Times Convention earlier this year, I took it!
How do you defy destiny?
Helen Hamilton has spent her entire sixteen years trying to hide how different she is—no easy task on an island as small and sheltered as Nantucket. And it's getting harder. Nightmares of a desperate desert journey have Helen waking parched, only to find her sheets damaged by dirt and dust. At school she's haunted by hallucinations of three women weeping tears of blood . . . and when Helen first crosses paths with Lucas Delos, she has no way of knowing they're destined to play the leading roles in a tragedy the Fates insist on repeating throughout history.
As Helen unlocks the secrets of her ancestry, she realizes that some myths are more than just legend. But even demigod powers might not be enough to defy the forces that are both drawing her and Lucas together—and trying to tear them apart.
---
What are you currently reading? Do you have any books that you want to read but can't yet and you are just dying while waiting for it?
Besides Colleen Houck's Egyptian book, of course.
Which, by the way…
You will love!
This entry was posted in Upcoming YA Books.
---
---
Categories
Archive
Author Bio