My Favorite Covers of 2016
December 19, 2016
---
I don't always get around to reading a book when its released. So many come out during a year, that I have stacks and stacks on my shelf. Though I do read a lot, I can never get to them all and my pile never seems to shrink. So while some of these books might not have been released in 2016, I did read them in 2016.
Here are my top ten picks for amazing book covers that I read this year in no particular order!
---
Lia has survived Venda—but so has a great evil bent on the destruction of Morrighan. And only Lia can stop it.
With war on the horizon, Lia has no choice but to assume her role as First Daughter, as soldier—as leader. While she struggles to reach Morrighan and warn them, she finds herself at cross-purposes with Rafe and suspicious of Kaden, who has hunted her down.
In this conclusion to the Remnant Chronicles trilogy, traitors must be rooted out, sacrifices must be made, and impossible odds must be overcome as the future of every kingdom hangs in the balance.
WHY I LOVE IT: There is such great detail in this cover. The two armies converging in the background are amazing and the determination on the character's face. I love the color of it. It's like a scene in a movie you just want to dive into. It draws me in and I want to know more.
---
Maya is cursed. With a horoscope that promises a marriage of death and destruction, she has earned only the scorn and fear of her father's kingdom. Content to follow more scholarly pursuits, her whole world is torn apart when her father, the Raja, arranges a wedding of political convenience to quell outside rebellions. Soon Maya becomes the queen of Akaran and wife of Amar. Neither roles are what she expected: As Akaran's queen, she finds her voice and power. As Amar's wife, she finds something else entirely: Compassion. Protection. Desire…
But Akaran has its own secrets—thousands of locked doors, gardens of glass, and a tree that bears memories instead of fruit. Soon, Maya suspects her life is in danger. Yet who, besides her husband, can she trust? With the fate of the human and Otherworldly realms hanging in the balance, Maya must unravel an ancient mystery that spans reincarnated lives to save those she loves the most…including herself.
WHY I LOVE IT: The first thing I loved about this was the obvious ties to the middle east. Since I write about that myself, I was immediately interested. I like that the lamp she's holding illuminates her as if she is the one bringing light to the dark world around her. The border, etched in gold, is striking and I really like that the stars beneath her feet make her look like a goddess walking in the air.
---
For as long as she can remember, Gwendolyn Allister has never had a place to call home—all because her mother believes that monsters are hunting them. Now these delusions have brought them to London, far from the life Gwen had finally started to build for herself. The only saving grace is her best friend, Olivia, who's coming with them for the summer.
But when Gwen and Olivia are kidnapped by shadowy creatures and taken to a world of flesh-eating sea hags and dangerous Fey, Gwen realizes her mom might have been sane all along.
The world Gwen finds herself in is called Neverland, yet it's nothing like the stories. Here, good and evil lose their meaning and memories slip like water through her fingers. As Gwen struggles to remember where she came from and find a way home, she must choose between trusting the charming fairy-tale hero who says all the right things and the roguish young pirate who promises to keep her safe.
With time running out and her enemies closing in, Gwen is forced to face the truths she's been hiding from all along. But will she be able to save Neverland without losing herself?
WHY I LOVE IT: The tempest feels as real as if I was caught inside. I've always had a thing for pirates and old ships and this one just draws me in. You can almost see the water swelling over the middle and it makes me wonder who's drowning in this book. Who needs saving?
---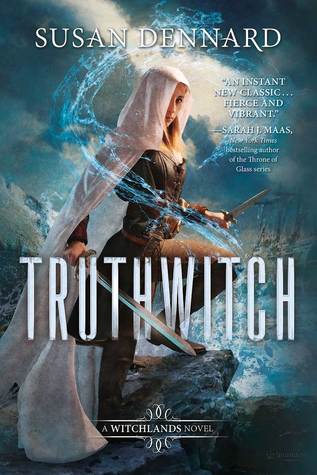 In a continent on the edge of war, two witches hold its fate in their hands.
Young witches Safiya and Iseult have a habit of finding trouble. After clashing with a powerful Guildmaster and his ruthless Bloodwitch bodyguard, the friends are forced to flee their home.
Safi must avoid capture at all costs as she's a rare Truthwitch, able to discern truth from lies. Many would kill for her magic, so Safi must keep it hidden – lest she be used in the struggle between empires. And Iseult's true powers are hidden even from herself.
In a chance encounter at Court, Safi meets Prince Merik and makes him a reluctant ally. However, his help may not slow down the Bloodwitch now hot on the girls' heels. All Safi and Iseult want is their freedom, but danger lies ahead. With war coming, treaties breaking and a magical contagion sweeping the land, the friends will have to fight emperors and mercenaries alike. For some will stop at nothing to get their hands on a Truthwitch.
WHY I LOVE IT: I think it's the blue magic in the air I love most. This girl looks tough and powerful. A knife isn't good enough. She needs a sword too. The title looks like it's made of metal. Striking and a beautiful design.
---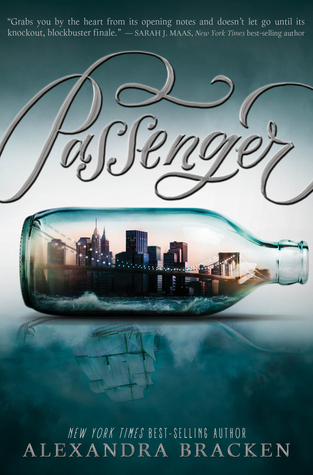 In one devastating night, violin prodigy Etta Spencer loses everything she knows and loves. Thrust into an unfamiliar world by a stranger with a dangerous agenda, Etta is certain of only one thing: she has traveled not just miles but years from home. And she's inherited a legacy she knows nothing about from a family whose existence she's never heard of. Until now.
Nicholas Carter is content with his life at sea, free from the Ironwoods—a powerful family in the colonies—and the servitude he's known at their hands. But with the arrival of an unusual passenger on his ship comes the insistent pull of the past that he can't escape and the family that won't let him go so easily. Now the Ironwoods are searching for a stolen object of untold value, one they believe only Etta, Nicholas' passenger, can find. In order to protect her, he must ensure she brings it back to them—whether she wants to or not.
Together, Etta and Nicholas embark on a perilous journey across centuries and continents, piecing together clues left behind by the traveler who will do anything to keep the object out of the Ironwoods' grasp. But as they get closer to the truth of their search, and the deadly game the Ironwoods are playing, treacherous forces threaten to separate Etta not only from Nicholas but from her path home… forever.
WHY I LOVE IT: I already said I love boats. I also love deeper meaning and imagery in art. The city trapped in a bottle is a cool twist and I really like the mirror image below it where you can see the ship free of the bottle. It reminds me of the Pirates of the Caribbean movie where they had to flip the ship upside down.
---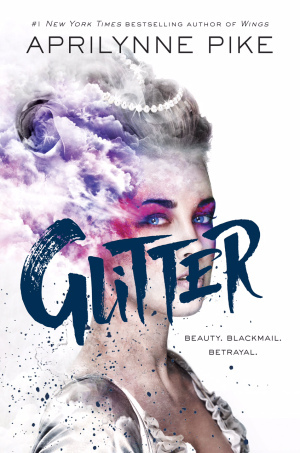 Outside the palace of Versailles, it's modern day. Inside, the people dress, eat, and act like it's the eighteenth century—with the added bonus of technology to make court life lavish, privileged, and frivolous. The palace has every indulgence, but for one pretty young thing, it's about to become a very beautiful prison.
When Danica witnesses an act of murder by the young king, her mother makes a cruel power play . . . blackmailing the king into making Dani his queen. When she turns eighteen, Dani will marry the most ruthless and dangerous man of the court. She has six months to escape her terrifying destiny. Six months to raise enough money to disappear into the real world beyond the palace gates.
Her ticket out? Glitter. A drug so powerful that a tiny pinch mixed into a pot of rouge or lip gloss can make the wearer hopelessly addicted. Addicted to a drug Dani can sell for more money than she ever dreamed.
But in Versailles, secrets are impossible to keep. And the most dangerous secret—falling for a drug dealer outside the palace walls—is one risk she has to take.
WHY I LOVE IT: Me and my sister (especially my sister) have a slight makeup obsession. Not only is the makeup beautiful but the hair. I also love really cool updos. The splatter of makeup on the cover and the title written in what could be really dark lipstick, to me, are symbolic of the danger and darkness of the court.
---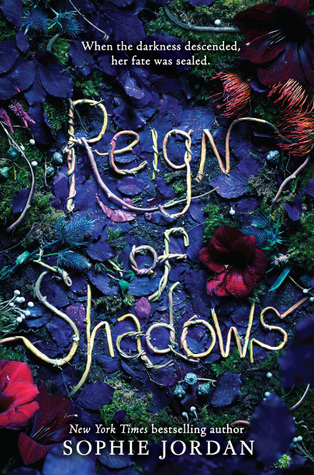 Seventeen years ago, an eclipse cloaked the kingdom of Relhok in perpetual darkness. In the chaos, an evil chancellor murdered the king and queen and seized their throne. Luna, Relhok's lost princess, has been hiding in a tower ever since. Luna's survival depends on the world believing she is dead.
But that doesn't stop Luna from wanting more. When she meets Fowler, a mysterious archer braving the woods outside her tower, Luna is drawn to him despite the risk. When the tower is attacked, Luna and Fowler escape together. But this world of darkness is more treacherous than Luna ever realized.
With every threat stacked against them, Luna and Fowler find solace in each other. But with secrets still unspoken between them, falling in love might be their most dangerous journey yet.
With lush writing and a star–crossed romance, Reign of Shadows is Sophie Jordan at her best.
WHY I LOVE IT: This is just so, so beautiful. Even more so after I watched the making of the cover for book two in the series. Watch the youtube video on it and then tell me you don't love it as much as I do. My favorite thing is the little mushrooms.
The Making of the RISE OF FIRE Book Cover

Have you ever wondered what it takes to make a book cover? Watch this mesmerizing time lapse video from the creation of the RISE OF FIRE cover by Sophie Jordan! Find out more about this book here: http://bit.ly/2fuxNlz

Posted by Epic Reads on Monday, November 28, 2016
---
Return to the darkly beautiful world of The Sin Eater's Daughter with a sequel that will leave you awed, terrified . . . and desperate for more.
Ever since her brother Lief disappeared, Errin's life has gone from bad to worse. Not only must she care for her sick mother, she has to scrape together rent money by selling illegal herbal cures. But none of that compares to the threat of the vengeful Sleeping Prince whom the Queen just awoke from his enchanted sleep.
When her village is evacuated as part of the war against the Sleeping Prince, Errin is left desperate and homeless. The only person she can turn to is the mysterious Silas, a young man who buys deadly poisons from Errin, but won't reveal why he needs them. Silas promises to help her, but when he vanishes, Errin must journey across a kingdom on the brink of war to seek another way to save her mother and herself. But what she finds shatters everything she believed about her world, and with the Sleeping Prince drawing nearer, Errin must make a heartbreaking choice that could affect the whole kingdom.
WHY I LOVE IT: I love that the girl is trapped inside a bottle. There are strange things floating around in there with her and it's creepy and fascinating. I like the chains at the bottom of the bottle too. It's could mean it's either a part of the locket or it's chained to something, or both. The font on the title is epic.
---
Cloud Atlas meets Orphan Black in this epic dimension-bending trilogy by New York Times bestselling author Claudia Gray about a girl who must chase her father's killer through multiple dimensions.
Marguerite Caine's physicist parents are known for their groundbreaking achievements. Their most astonishing invention, called the Firebird, allows users to jump into multiple universes—and promises to revolutionize science forever. But then Marguerite's father is murdered, and the killer—her parent's handsome, enigmatic assistant Paul— escapes into another dimension before the law can touch him.
Marguerite refuses to let the man who destroyed her family go free. So she races after Paul through different universes, always leaping into another version of herself. But she also meets alternate versions of the people she knows—including Paul, whose life entangles with hers in increasingly familiar ways. Before long she begins to question Paul's guilt—as well as her own heart. And soon she discovers the truth behind her father's death is far more sinister than she expected.
A Thousand Pieces of You explores an amazingly intricate multi-universe where fate is unavoidable, the truth elusive, and love the greatest mystery of all.
WHY I LOVE IT: Like some of the other mirror images, you can read a lot into the book by studying both sides. The color on the bottom looks like it's been drawn on canvas so that could indicated that the world represented there isn't the real one. Then again the city above is black and white, like a photograph. They are different mediums that show you a world but it's only 2-D. Which place is the real one? Or are none of them real?
---
Seventeen-year-old Imogen Rockford has never forgotten the last words her father said to her, before the blazing fire that consumed him, her mother, and the gardens of her family's English country manor.
For seven years, images of her parents' death have haunted Imogen's dreams. In an effort to escape the past, she leaves Rockford Manor and moves to New York City with her new guardians. But some attachments prove impossible to shake—including her love for her handsome neighbor Sebastian Stanhope.
Then a life-altering letter arrives that forces Imogen to return to the manor in England, where she quickly learns that dark secrets lurk behind Rockford's aristocratic exterior. At their center is Imogen herself—and Sebastian, the boy she never stopped loving.
Combining spine-tingling mystery, romance, and unforgettable characters, Suspicion is an action-packed thrill ride.
WHY I LOVE IT: I've always had a thing for labyrinths. I love the purple color of the maze and the character is blurred as if she's running from something. Who is she running from? Is there more danger in the labyrinth than what's behind. Can she reach the middle. We, as the reader, can see the center easily but there's nothing inside. Also, it doesn't look like there's a path to the center. Is she doomed to wander?
---
There you have it, my top ten book covers of 2016! Check these out along with other books I've read this year on my Goodreads page!
This entry was posted in Featuring Authors, Top Ten Lists.
---
---
Categories
Archive
Author Bio